The last few months we are witnessing a mass action of our fellow citizens, trying to help little Nikola Vuletikj who is fighting his biggest fight- the fight for his life. Many private persons and companies took part of the action, each of them trying to contribute in the fundraising for the treatment of Nikola. And also, to give support to him and his family in these hard moments. We hope that we will also be an incentive for new ideas, with the same goal, and we do not stop here.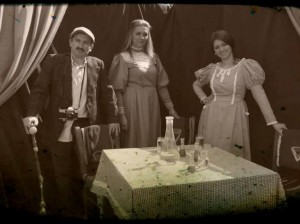 Motivated by other`s activities, our members came to the idea for our humanitarian action, consisted of two events. The first event, named "Take a photo for Nikola", took place on the city square, where citizens were offered the chance to take a photo with our local legend Batko Gjorgjija and to give donations. This was also the announcement for the second event, Auction of art photos, all of them with great successes in international competitions and exhibitions. Although at the beginning we did not know how the auction will be accepted, to our great pleasure, it exceeded all our expectations, and the citizens of Kumanovo supported us fully with their humanity.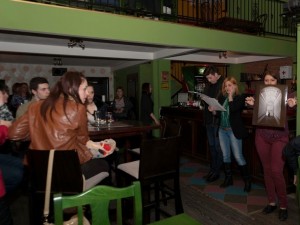 We would like to take this opportunity to thank everyone who helped us in the realization of this action, our friends: National Theatre of Kumanovo with their authentic costumes, Etno-restaurant "Baba Cana" and tavern "Korner" with their inventory for our improvised tavern on the city square, internet provider "K-Net" who made it possible to publish the photos on the spot, Nikola Zafirovikj without whom we couldn`t have formed the scene, as well as all the media sponsors- the editorials Ploshtad, KumanovoNews, KumanovskiMuabeti, LevoDesno and KUDE which enabled us to reach as many of You, dear fellow citizens. Also, for the Auction, a big thank you to coffee bar "Peron 7" which made their space and staff available to us, "Foto Stil" which printed part of the photos, and of course to our charming auction hosts- Sanja Ruseska and Chedomir Mitevski.
Most of all, our biggest gratitude goes to all of You, our fellow citizens, who contributed in the action, and who at times left us speechless with your humanity. The girl who did not want to buy a photo, but asked if and where she can donate, as well as all of you who participated actively in the auction and made donations on the city square, will be an example for humanity and kindness. We hope that the whole action will continue, including us, until the goal is reached.
ACTIVE DONATION T-MOBILE No.: 070-143-115
ACTIVE DONATION VIP No.: 077-134-133
Bank account for direct donations: 300097024332971 – Komercijalna banka AD Skopje (for: Nikola Vuletikj)
Account holder: Goran Vuletikj
Address: Trickovikj Str, no. 19/9, 1300 Kumanovo
Cell phone: 070-424-023