News
Art is a product of culture, it is a kind of aesthetic communication between the author and the audience, and its main purpose is the presentation of a subjective view of existence. The message that the art piece carries can be painted, written, sculptured, played, or it can be captured in one single moment caught by the eye of a camera.
Photography is at the same time an art, science and practice, which has the power to tell stories through color, blink expressions of the face and the body, landscapes, movements and emotions photographed and put in a frame. Although strictly visual by definition, its message is read with all the senses and touches every emotion.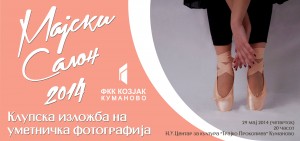 Such artistic presentation of the world seen through a camera lens, is this year`s club exhibition of Photo Cinema Club KOZJAK, May Salon 2014. The audience will have the opportunity to see over 50 photos, moments of reality, a specific kind of evidence of what, through the artistic perspective of our members, means to be HERE and NOW. This exhibition has the goal to present and improve the aesthetic sense for art photography, that our club has been establishing for half a century. The exhibited works are an indication of the seriousness and commitment with which we approach this kind of art and are further evidence for the justification of the international reputation that PCC Kozjak has.
Unfortunately, photography as an artistic expression, in Macedonia is more or less, a passion on a hobby level, organized in a few photo clubs across the state. But even as such, it arouses a growing interest among youth resulting in works that enrich the quality of Macedonian photo and accentuate even more its specifics. For these reasons, as a support for the creativity of young and non-affirmed photographers, as well as a presentation of our members whose names and works are already recognizable in the art photo world, we are traditionally organizing May Salon.